Martial Arts Classes at Martial Arts Institute - North – The Best in Overland Park, KS
Special Online Offer
One Week Free
Special Online Offer
One Week Free
Martial Arts Institute - North
Karate Deal of The Day
Overland Park, KS
MARTIAL ARTS TRAINING AT Martial Arts Institute - North PROVIDES NUMEROUS ADVANTAGES
At Martial Arts Institute - North our professional Instructors are ready to serve our community from karate kids to adults. We strive to make your martial arts class a personalized experience as we realize many of our students have enrolled for multiple reasons. If you live near or around Overland Park, KS please give us a call or complete any form on this site to receive your website special offer. Our program directors and Martial Arts instructors will reach out to you and schedule your first lesson and offer a tour of our academy.
Learn Valuable Life Skills
Self-Confidence and higher self-esteem will come as you face the challenges of martial arts training.
Increase Your Fitness
You will increase your strength and endurance through martial arts training. The cardio benefits will have your fitness level on the rise.
Make New Friends
The challenges that you will go through with your fellow martial arts students will create bonds that last a lifetime.
Learn To Defend Yourself
Learn to walk with confidence knowing that you can defend yourself in whatever situation that life presents you with.
Let our team of Instructors show you how we can help!
Click on the Show Me How Button Below and get our website offer Today! We will get you in the queue for a schedule. First come first served, so don't delay.
LISTEN TO WHAT OUR HAPPY MARTIAL ART STUDENTS AND PARENTS ARE SAYING
Great place! We got to try it out for a week to see if our son would like it, and honestly it's one of the best things we've done.
I am PE teacher at a local elementary school and we were lucky enough to have David come to our school for 4 days free of charge and teach ALL of our students masterfully. David is an amazing teacher and knows how to bring the best out of all the students. If you want your child to learn, have fun and get a great workout, Master Dave is as good as it gets!!
We absolutely love this place. The instructors are all fantastic and patient with the kids. They know the names of everyone single kid and there are quite a few. It is very good for teaching discipline, respect, and responsibility. They also have this great family/ community vibe that is very welcoming and makes you feel comfortable right from the get go.You can tell they really care about the kids and how they are doing not only in class but in general. Would definitely recommend!
Kids Love Martial Arts Classes at Martial Arts Institute - North!
Do All The Best
We are excited to meet your family. Martial Arts can help your children develop life-long skills that will benefit them at home, in school with better grades, and in everyday life with enhanced courtesy and respect. We are VERY proud of how our karate kids excel in the community after just a short time of being a martial art student. Click the Act Now button below and select a program that best fits your needs.
Karate Kids in the community
Our students are becoming leaders within the community daily.
Karate Class For School
Karate classes that help children in school academically and socially.
Safe Karate Defense Skills
Learning safety skillsets that will help them in that time of need.
Respect, Courtesy, Self-Discipline
Life skills that last a lifetime are taught within our martial arts academy.
After School Martial Arts Classes at Martial Arts Institute - North!
Thinking about long term gain, many programs fall short in limiting potential due to teaching so few attributes and life skills. Every child deserves the right to learn in school, but what happens after school is also just as important.
Teen & Adult Martial Arts Classes at Martial Arts Institute - North!
Our Martial Arts classes for teens and adults are Top Notch. Our Instructors are actively involved with each student and the benefits our program has on and off the mat. From safely taught self defense skills to physical fitness our adult program delivers real world results for this ever-changing world. Our community members in Overland Park, KS love the classes and what we have to offer for our student base and their families.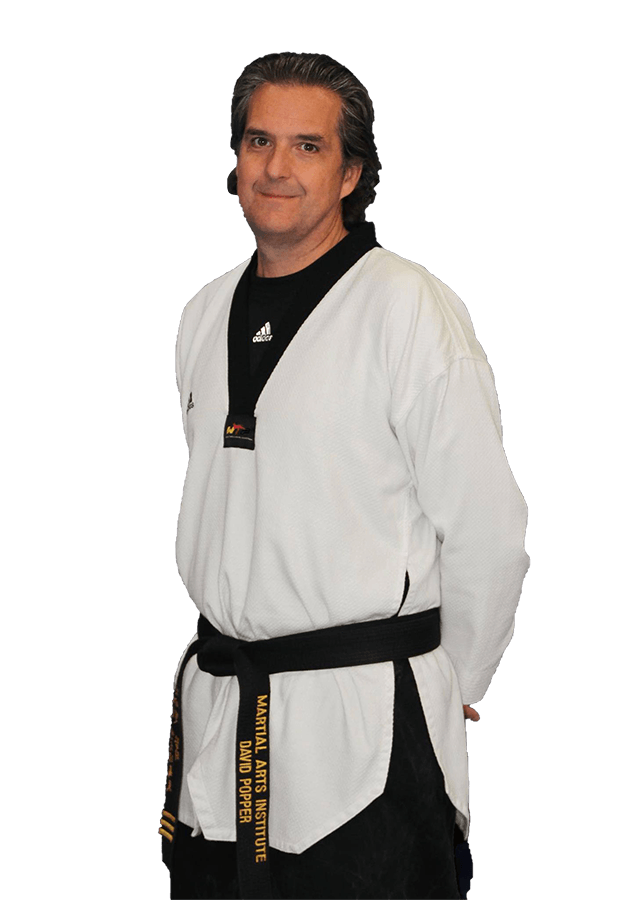 Meet Martial Arts School Owner
Master David Popper
Thank you for visiting our little corner of the internet. I want to personally welcome you to our site where you will find a lot of good information about the various programs our school provides as well as a fantastic introductory offer available only through our website. I know there are many schools to chose from and the search can be overwhelming. I will say though that once you visit our location, experience our family-oriented atmosphere, and participate in one of our professionally run classes, your decision to train here will become infinitely easier. I can't wait to meet and train with you!
Give Us A CALL TODAY! 913-341-5425
FREE GIFT!
Enter Your Email Address to Download Our Free "How Martial Arts Can Positively Change Lives!" Book
There will also be a SPECIAL Gift In the email.